Welcome to another week of Healthy Living! I'm so excited you're here and look forward to hearing your tips and simple steps towards a more healthy lifestyle.
Today I'm super excited to share a product with you that I'm truly passionate about!
When I first started exploring Real Foods and Traditional Foods Prep and Eating, one of the things I learned was that salt (sea salt or other) shouldn't be white. Salt with the absence of any color is salt you should not be consuming. I dare you to go to the kitchen and look at the ingredients on your salt container. I will bet you that there's something added there. An anti-caking ingredient or bleaching or processing agents in there. I don't know about you, but when I realized that, the idea of eating regular table salt or even "sea salt" didn't seem as appealing anymore.
Real Salt contains 60 trace minerals! 60!!!
Here is a list of all of them
It's real, authentic salt found in Central Utah with in a mineral-rich salt deposit from an ancient sea. There are no additives, chemicals, anti-caking agents or bleaching. This salt is reddish in color and I've quickly grown to love the pureness of it and the taste! It tastes amazing!!
And, incredibly enough, it's also not known to
affect blood pressure the way regular salt does
which is a HUGE relief when I've walked into the kitchen to find my 3 yr old eating it! :) He LOVES salt and this is honestly salt I feel completely good about him having! :)
And you know what's even better? The Redmond Trading Company is offering some Real Salt to some lucky readers today!
5 (yes 5!!) lucky readers will win a 9 oz shaker of this amazing salt! (picture/size shown above) All I ask is that you be a reader and follower of this blog so that it's fair to everyone.
And before we get to the giveaway, I'd also like to highlight some of the great shares from last time. Thanks for linking up. Cannot wait to hear what you have for us today!!
Inspiring link from last time:
Having had ants in our last home, these tips are great!
Now it's your turn to share what you're learning!
And now, for the rules...I'll try to keep them simple :)
2. You can post about anything you want, as long as it's a simple step towards a healthier lifestyle including tips for "green" living. I will ask that you avoid the following:
no artificial ingredients
3. Share the love. Check out at least 3-4 other posts and introduce yourselves. The thing I love most about linky parties is that you get to meet so many amazing people!
4. Have fun!! :)
I'd also love to have you put the button on your post or blog somewhere so that it's an actual "link" party! :)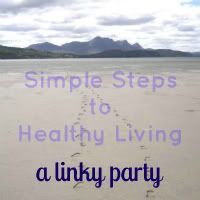 Want to co-host next time? Just
contact me
and we'll set it up!
And featured lady, don't forget to grab the "I was featured" button! Excellent shares and I'm so glad you linked up last time!!
Good luck to all who enter the giveaway! I just know you're doing to LOVE Real Salt!!
a Rafflecopter giveaway

Lovely Sponsor